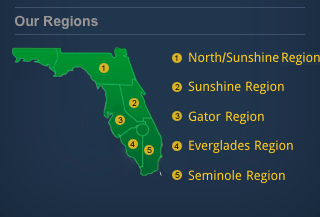 Each Florida Chapter Region – Everglades, Gator, North, Seminole and Sunshine – hosts 4-6 local education and networking programs each year. Regardless of your geographical locale, Florida Chapter members are invited to participate in more than 100 hours of educational programming each calendar year. Members who prepay their Florida Education Club (FEC) dues are welcome to attend Regional business and education events at no additional charge.
Consult the Calendar of Events for upcoming events in your area and register to attend today!
If you are a member, you may log in to the private side for more information on your region.